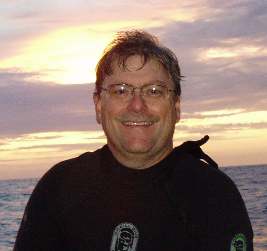 Background
I've had the privilege of serving as an Elder of the Circle Church since December of 2002. A lot has happened in that period of time, but I am continually amazed at how God leads His people and take care of us. He is so good! In my service as an Elder I desire to be a Godly Elder and to set an example for the Church and for future Elders.
Let me get back on task and tell you about me. I was born in 1956 and will be 53 this year. I was raised in Southern California in a Christian home. I became a baptized believer when I was 11, so I've been a Christian for more than 40 years. I met Nancy, my wife, while in college and we just celebrated our 30th anniversary. We moved to Corvallis in 1985 after I finished graduate school. I work as a research scientist for the Environmental Protection Agency. My specialty is soil chemistry. We have two daughters: Laura is married to Benn and they live in Virginia, and Hannah, is a Senior at Harding University. Laura was born in New York and was one when we moved to Oregon. Hannah was born in Oregon. We are extremely proud of our kids, both are faithful Christian women. Benn's a faithful man of God and we're happy that he's a part of our family too.
I consider it a privilege to be a Christian! It amazes me to think that the Creator of the Universe loves me and wants me to be close to Him. Jesus provides the path to a relationship with God. Being a Christian really shapes me. Being committed to the Church is how I choose to use a portion of the time God has given me. The two go hand-in-hand. I love being a Christian. It provides the answer to why we're here. It gives life purpose and meaning. Being a part of a community of faith (Church) is how God wants us to live so that we can mutually edify each other, care for each other, and know Jesus. It's a crucial part of the Christian experience. As Jesus said, "For where your treasure is, there your heart will be also." (Matthew 6:21). Where's your treasure?
Being a Christian doesn't have to be boring. In fact, I believe that Christians actually have more fun! Jesus said "I have come that they may have life, and have it to the full." (John 10:10b), and He means it. Nancy and I have a lot of fun together. Often it centers around serving God, but other times it's comes from being together. We enjoy cycling together. We've cycled the Oregon coast, the San Juan Islands, and the Olympic Peninsula. Currently, we're riding across the U.S. a week or two at a time. So far we've ridden from Lincoln City, Oregon to Ft. Collins, CO. In 2009 we plan to ride from Ft. Collins to St. Louis, MO. It's a great way to see the country at a reasonably slow pace. I also swim and cycle for fitness. I like to cut my own firewood that we use to heat our home. I often do this with brothers from Church. I do a lot of projects around the house. I also like SUDOKU. I like the challenge. I like teaching the 4th, 5th and 6th graders at Church. My work has taken me around the world. I have a project in Russia and got to spend two weeks there in 2008. You also need to know that I am a coffee snob. I roast my own coffee. My favorite coffee is Harrar from Ethiopia. Dark roasted and prepared in a French press. Yum!
Another thing you need to know about me is that I have what I call "the curse of being a scientist". This means that I'm curious about most things and can easily get lost learning about something new. I read a lot of scientific stuff for my job. But I also just like to read because I'm interested in so many things. I like anything by John Steinbeck. Herman Wouk is also a favorite writer. Here's my current reading list:
City of Theives (Benioff), The Language of God (Collins), Guns, Germs and Steel (Diamond), We are Here Now (Keifert), The Devil's Cup (a book about coffee by Allen), Letters from a Skeptic (Boyd), Missional Church (Guder) and They Like Jesus but not the Church (Kimball).
I really like the New Testament (Nancy likes the Old). Two of my favorite Christian books are "Point Man" by Steve Farrar. It talks about being Godly leader in the home. I also like "They Smell Like Sheep" by Lynn Anderson. It's a book about being a Godly Elder
Favorite Passage:
This is hard, because there are so many. One that I use a lot is:
"But seek first his kingdom and his righteousness, and all these things will be given to you as well." (Matthew 6:33) – This sums it all up. Follow God and He will take care of you.
Another is: Delight yourself in the LORD and he will give you the desires of your heart. (Psalm 37:4) – This one is a bit more complex. When I delight in the Lord, He shapes the desires of my heart. My desires become more Godly and less worldly. He rewards me by fulfilling these new desires.
My Prayer for all the flock at Circle:
This is the prayer that Jesus prayed for His future followers in John 17:20 – 26. It's a prayer that talks about the relationship between Jesus and God and Jesus desire for there to be unity in the Church and that we will show the world Jesus.
20″My prayer is not for them alone. I pray also for those who will believe in me through their message, 21that all of them may be one, Father, just as you are in me and I am in you. May they also be in us so that the world may believe that you have sent me. 22I have given them the glory that you gave me, that they may be one as we are one: 23I in them and you in me. May they be brought to complete unity to let the world know that you sent me and have loved them even as you have loved me. 24″Father, I want those you have given me to be with me where I am, and to see my glory, the glory you have given me because you loved me before the creation of the world. 25″Righteous Father, though the world does not know you, I know you, and they know that you have sent me. 26I have made you known to them, and will continue to make you known in order that the love you have for me may be in them and that I myself may be in them."
My contact information:
Email: thefam@comcast.net
Phone: (541) 758-5065