2015 The Rally in the Valley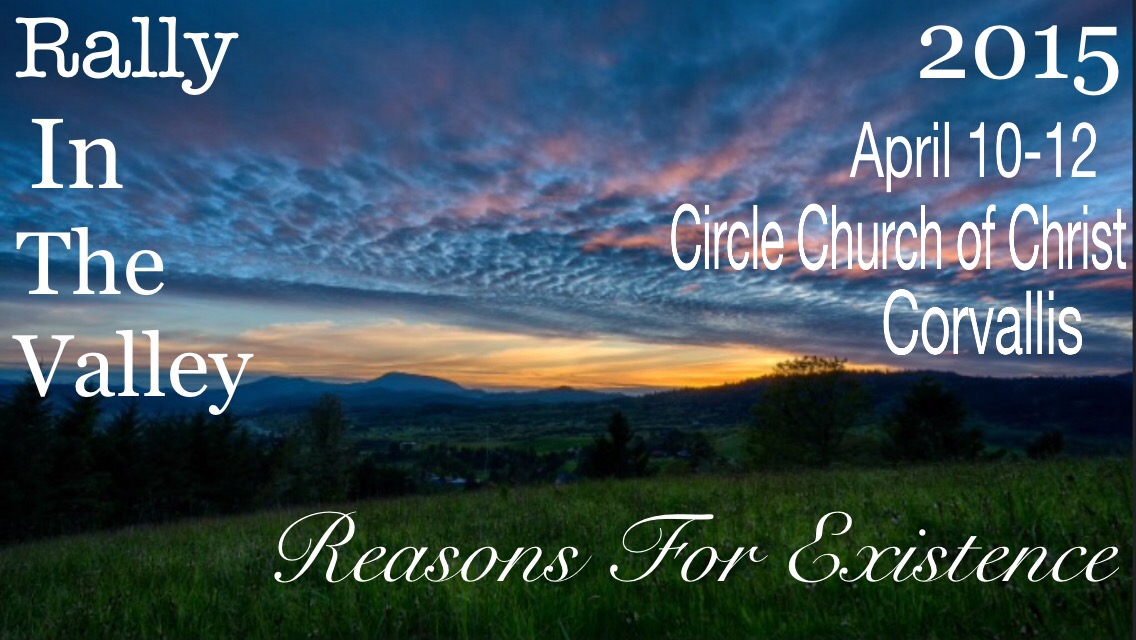 Jack Williamson will be speaking.  $20 for early registration.
Click here to see and print our program.
2015 The Art of Marriage
Mar 6-7, 2015
Save the dates!
Join us for a video-based marriage event created to help couples fully experience God's plan for marriage.  More details coming soon!

2014 Clothing Drive
Circle Church of Christ would like to thank the Corvallis and surrounding communities for helping us make the 2014 Clothing Giveaway a huge success.  Over 1,180 people were able to "shop" for clothing for their families. This wouldn't be possible without the generous donations of gently used (and sometimes new) clothing we collect and sort throughout the year.
The clothing drive started with an exchange between families of the congregation, and grew until it was opened to the public at least 30 years ago.  There is always a need for sufficient warm clothing for school kids, as well as professional attire for working people.  A desire to fill those needs and share the love of God is the driving force behind our giveaway.
This year we had some setbacks.  Our entire donation bin was stolen, and locks to the storage sheds were cut.  Even with these occurrences we served more people than usual and received excellent feedback from the community.
We are already working on donations that are coming in.  If you have clothes to donate look for the bin in our parking lot.  We are located at the corner of Kings and Circle.  We are looking forward to next fall.  The give-away dates are set for Aug. 21 – Aug. 24, 2015.  If you have a clothing need, we hope to see you there! Again, our thanks for all the support.
2014 Softball
The Circle Church of Christ co-ed softball team just finished their season in the Albany Parks and Rec Church League with a record of 3 wins and 4 losses. Slow-pitch softball is played with ten players on the field rather than nine as is done in baseball. Also, each team is required to have at least three women on the field at all times and all players must be 15+ years old. This league is all about incorporating fellowship and fun with a competitive sport. This allows us to involve players of all skill levels.
The team would like to say a HUGE "Thank You" to Heidi Powell and Amanda Swick for keeping stats for us every week. We would have been lost without the efforts from these wonderful ladies. We also want to thank everyone that came out to cheer us on.
We started the season with little focus as a team and saw steady improvement every week by all players. Some of our players, like Amanda Radke, and some others had little to no experience at the beginning and simply joined in to have some fun. Well, let me tell you that quiet little Amanda and shy Maria both began turning into jocks by the end of the season.
We were led by the pitching of Tom "Iron Man" Powell. He pitched all but one inning of the entire season including three consecutive games on the same day in playoffs. It is much more difficult to throw a strike than it seems and, as if that isn't difficult enough, the pitcher must have quick reflexes to dodge the occasional line drive that is hit straight at him. Thank you, Tom, for taking more than one for the team while doing a great job pitching.
There were so many great moments this season that it would be impossible for me to list them all here. We worked hard and played hard but most importantly we did it together. I am so proud of the way everyone played, fellowshipped and represented Circle this year and I hope to see even more people join us next year.                                                     ~Ed